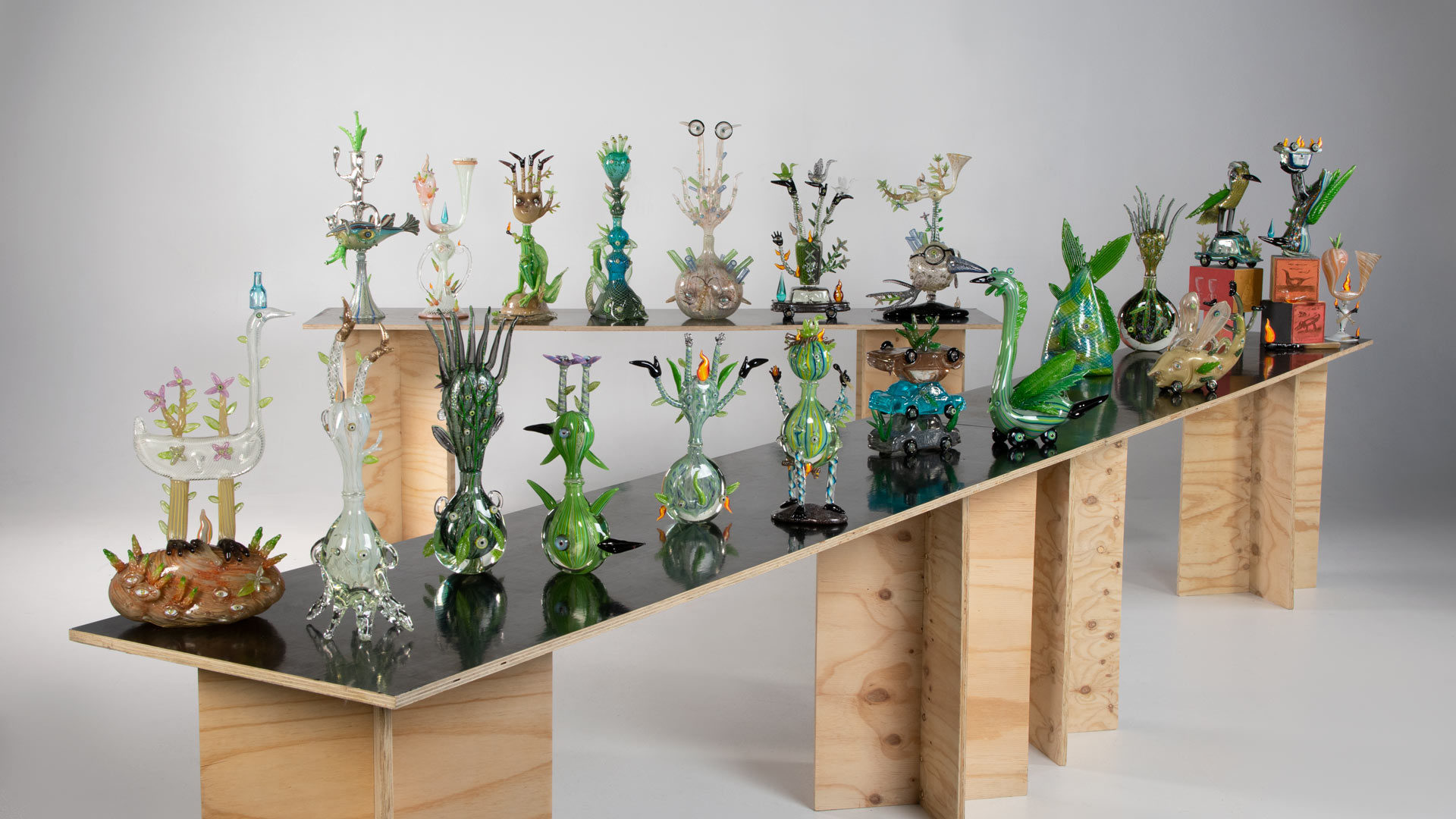 Agents of Incongruity is the accompanying exhibition to Agents of incongruity: glassmaking embraces nonsense to navigate monsters, wonders and dread.
Please join us on Thursday June 20th, 5-7pm at the SASA Gallery, Kaurna Building, Fenn Place, Adelaide because Tom has finished his PhD! 
Agents of Incongruity is the accompanying to his exegesis Agents of incongruity: glassmaking embraces nonsense to navigate monsters, wonders and dread. 
It's all very exciting.  There will be a copy of the exegesis to peruse, but if you're too distracted/enthralled/perplexed by the four and a half years of work, here's a summary below.
This exhibition is the result of practice-led research utilising specialised glass making techniques to produce objects exploring the themes of nonsense, monsters, wonder and dread.  The objects are intended to celebrate innovative and joyful uses of blown glass and invigorate contemporary practice by adopting novel technical and thematic influences to expand the communicative potential of this material.
This research proposes that glass is imbued with unique associations that may be particularly appropriate for responding to the troubled terrain of the Anthropocene.  Glass making is considered as a process for creating value, through the skilful transformation of natural resources, culminating in luxury objects utilising finely detailed decorative effects.  Atmospheric pollution generated in the course of the research has been calculated and generously offset, in an attempt to reconcile the personal dilemma of continuing to practise a pyrotechnic craft in an age of rapid global warming.
Translation of unconventional drawings into glass has been explored as a strategy for generating surprising objects that playfully upset conventions of representation and perception through odd proportions and eccentric compositions.
The incongruity theory of humour and its role in generating pleasurable cognitive shifts is central to the aim of studio practices, leading to the use of absurdity in an effort to confound and energise conventions of craft making and display.
The gallery is open 11am-5pm Monday to Friday and runs until the 5th July 2019.  It's closed weekends, so don't plan to come then as there'll be sadness and disappointment.
There will be a selection of works for sale, which will be made known at the opening (ie, haven't figured it out yet.)
Rosie