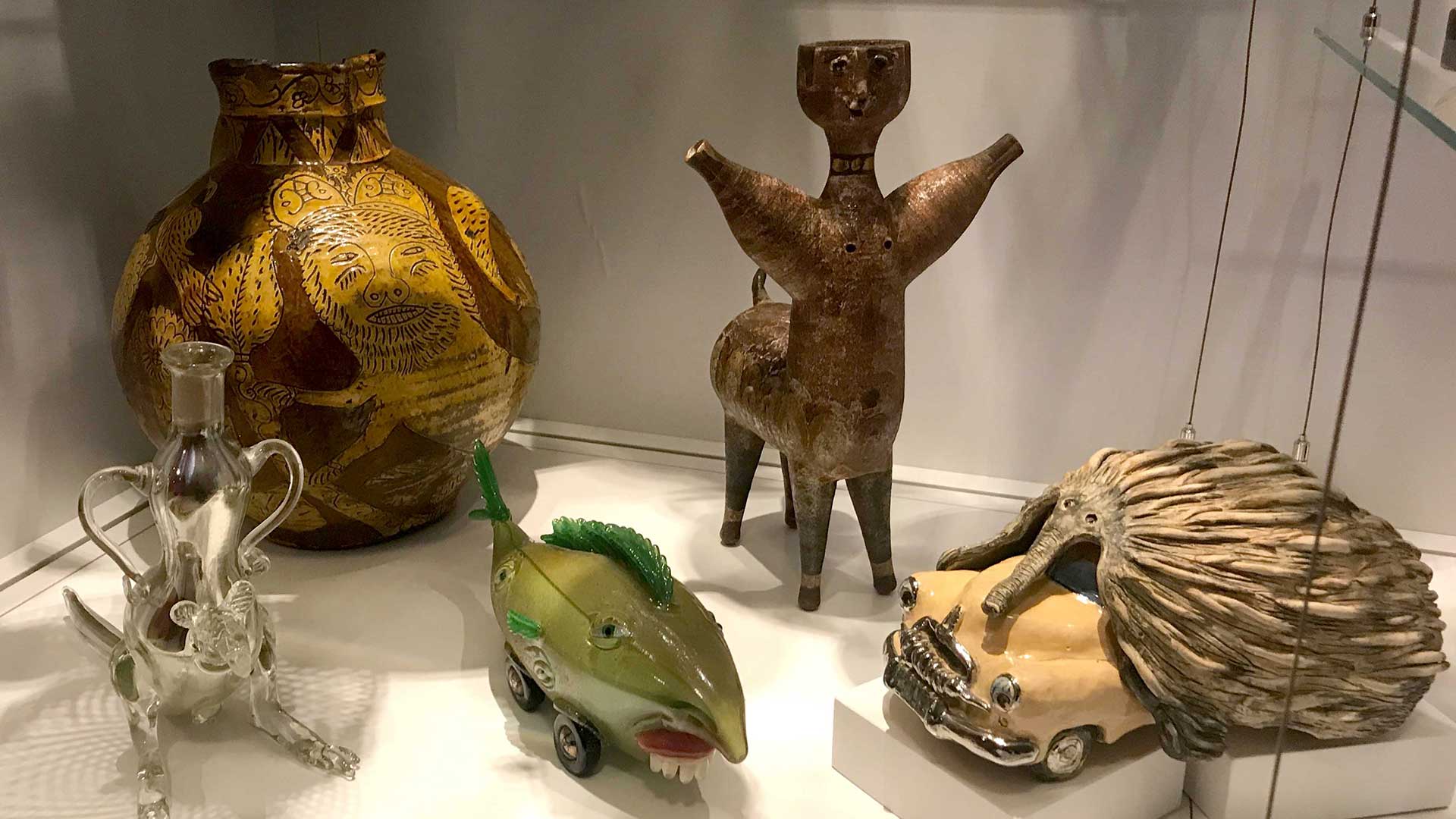 In August 2020 I was invited to participate in a terrifically fun project at the Art Gallery of South Australia.
We installed a new display featuring 4 pieces of my own glass acquired by AGSA in 2019, Mirror King, Tooth Totem, Daphne and Radioactive Potato Goblet arranged alongside many other items that I selected from their extensive decorative-arts collections.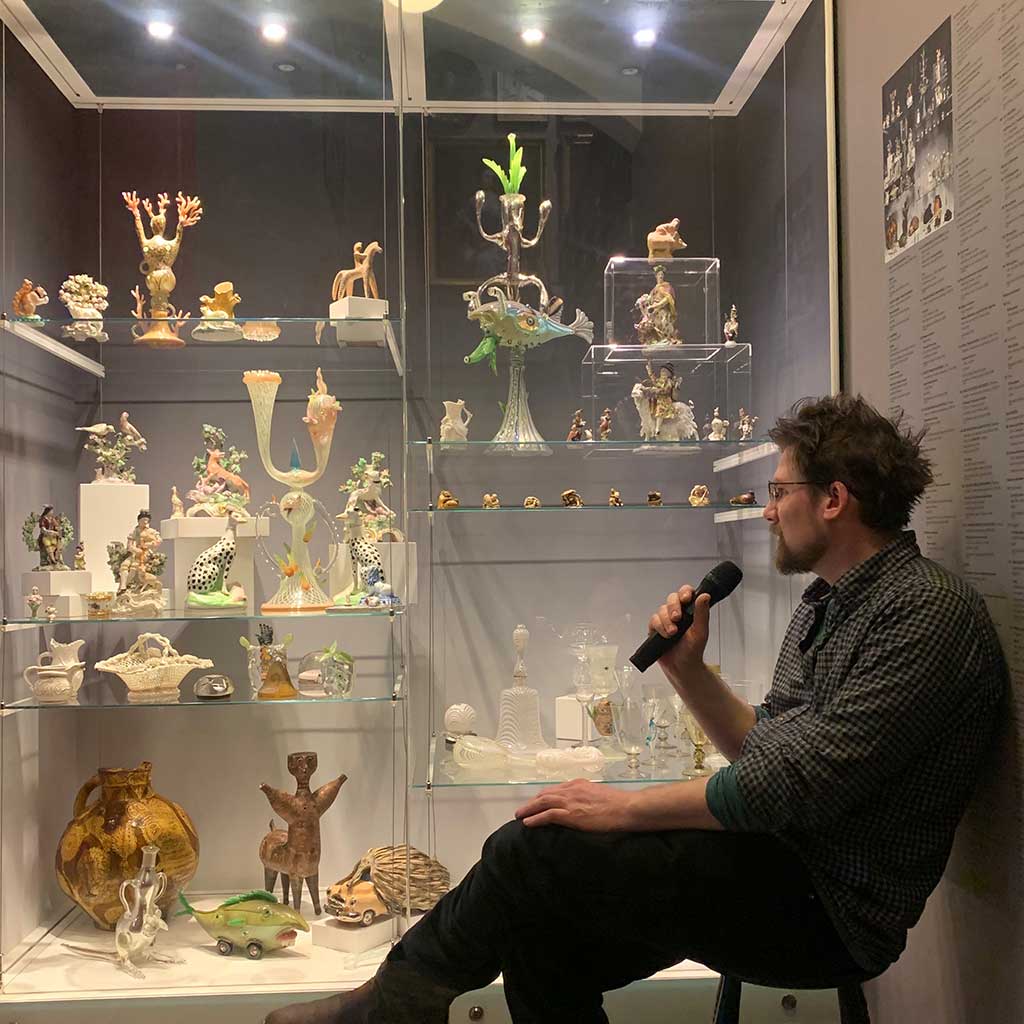 I delight in the stories suggested by these objects. Efficient workers in 19th Century glass factories were sometimes rewarded with free access to materials and facilities to produce ornamental novelties that celebrated the skill of the maker. The bell, whip and bellows in this display are archetypal examples of "end of day" glass objects, also known as "friggers" in England and "whimsies" in America. The term "frigging around" is probably related to the playful after-hours work of glass factory employees.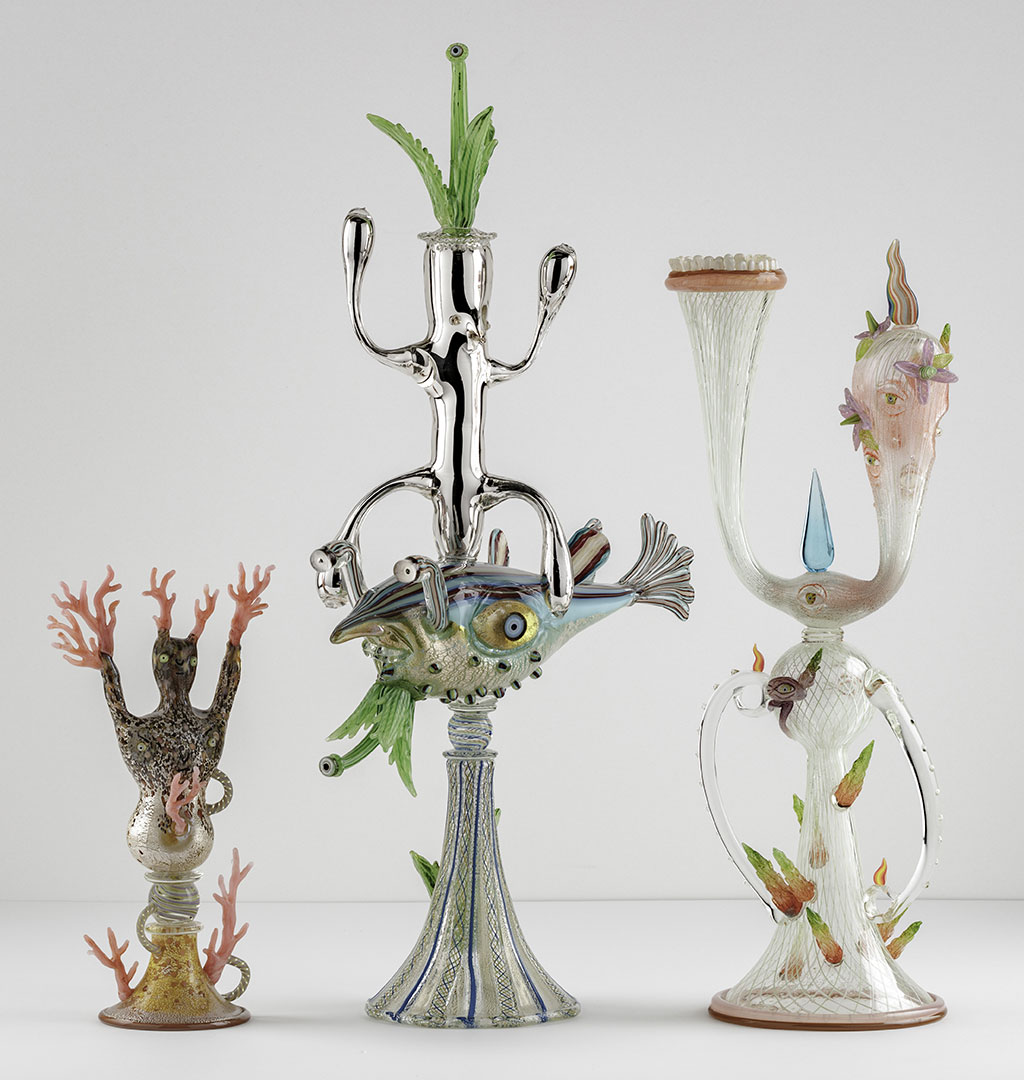 Photo: Saul Steed
The above pieces L to R:
Daphne
2017
34 x 18 x 10cm
Hot joined blown and solid glass
Mirror King
2018
72 x 45 x 19
Hot joined blown and solid glass, epoxy
Teeth Totem
2018
57 x 21 x 17cm
Hot joined blown and solid glass, epoxy
As a contemporary glass artist, I find myself in the blessed position of devising elaborate friggers for a living. These objects simultaneously rely upon and lampoon the hard-won skills gained through thousands of hours producing conventional tableware and trophies.
I am pleased to show my work alongside Margaret Dodd's echidna car. Living in Adelaide, I am conscious of the legacy of the robust Funk Ceramics movement that still resonates in the local crafts community. I continue to develop evolving iterations of organic vehicles that demonstrate Dodd's lasting influence on my practice.
AGSA has commissioned a short video to promote the new display that also offers a glimpse into the studio processes and the themes underpinning the works.
https://www.agsa.sa.gov.au/whats-on/exhibitions/tom-moore-selects/
As well as the pieces AGSA acquired, I also managed to sneak a few more of mine into the display, along with a small piece in another room…. Can you find it?